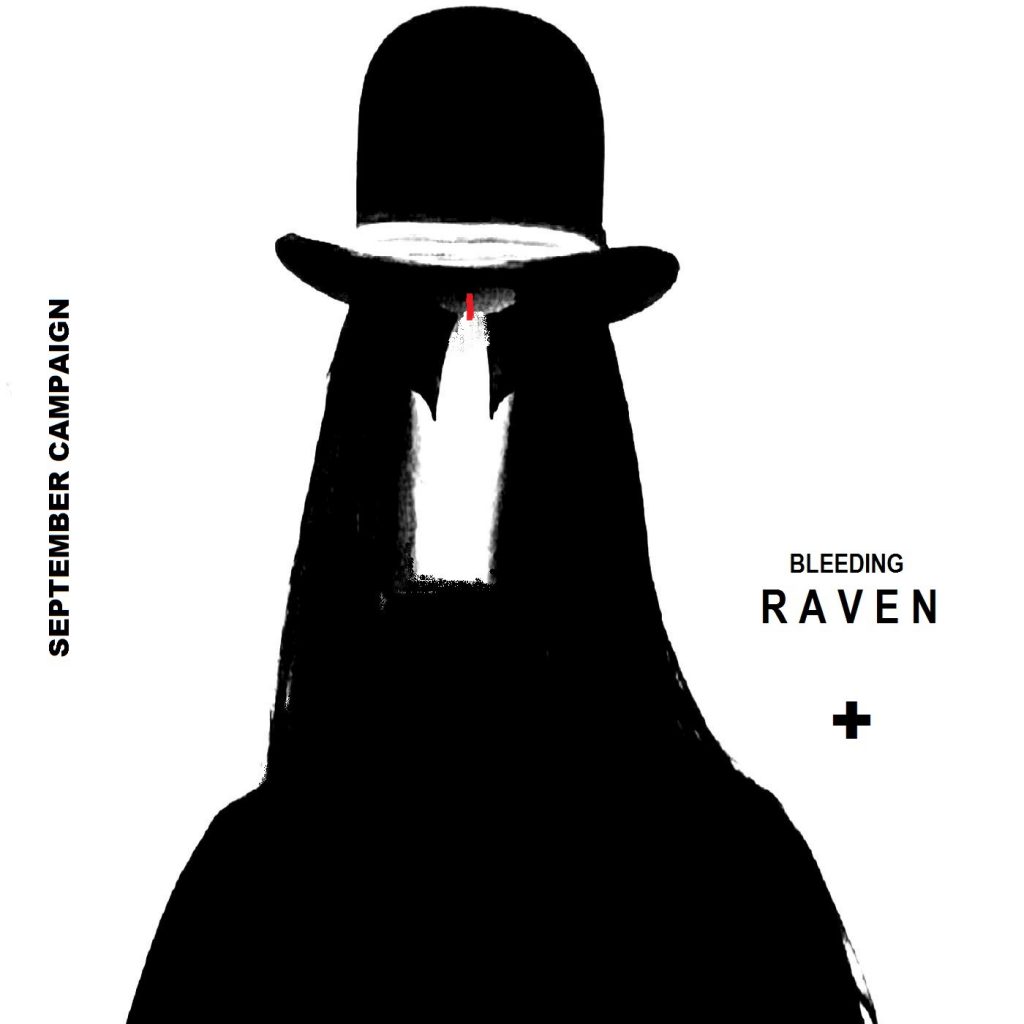 A year ago DutchMetalManiac's Tim van Velthuysen interviewed Bleeding Raven's Dean Mason, as you can read here. Now there is another interview with him.
Hey, how are you?
I'm doing the best I can. One day at a time. These are weird times…pandemic, wars, Nazi-wannabes, and a planet that's ailing because we're c**ts. Other than that, it's all good. You? Hahahahaha.
Can you tell us something about the history of Bleeding Raven?
Well, before Bleeding Raven there was Gnostic Gorilla and before that, as a teenager, I messed about with some music projects. Some mates and I went into a little studio and recorded two songs I wrote (on the bass no less) and released those as a single. I was barely out of diapers. The tracks were Dark Hallway/Golgotha and it was released simply as Dean Mason and it was released on Lonely Ghost Productions indie label.
In 2012, I revisited the idea of doing music strictly as a hobby, as I have a career and thus was born [initially] The Lonely Ghost Project. I recorded a few singles and released them, but never really took myself seriously. (still don't)
In 2016, I decided to release an entire album, but used the name Gnostic Gorilla. Gnostic Gorilla started off more gothic/industrial metal and I eventually got really interested in a more abrasive and creepy sound and so I initiated Bleeding Raven. The goal of this project, Bleeding Raven, was to pursue an aggrotech type sound.  Some have called it doom-tech, but I don't know. But also, the last releases aside from Darkness Consumed are more black metal ambient or just plain dark atmospheric ambient. (the die hard KVLT peeps get their spiked knickers in a knot when you don't fit their understanding of black metal so I prefer to call my stuff dungeon trash….and dungeon trash ambient…hahahahahaha)
For people not knowing Bleeding Raven (yet), how would you describe your music yourself?
Most of my music, including from the Gnostic Gorilla project is dark and creepy and almost disturbing. Some have referred to some of my stuff as unsettling. That's not very nice of them is it? Hahahahaha But seriously, most of my music (or noise buffet) would be perfect for horror movies like Underworld or Queen of the Damned etc.
When someone doesn't know Bleeding Raven yet and you can choose one of your songs to present yourself, which song would that be?
Pontiff's Nightmare and Verertrandt-Sutire Mix. Sorry, that's two. No extra charge though. hahahahahha
What makes Bleeding Raven unique?
I don't believe any new artists past the mid to late 90's can call themselves unique. It's all been done really. Like Gary Numan says in a song, "We all live in the same museum, we all rearrange the same old song". That may sound pessimistic, but let's face it, it's all been done…every gimmick, and shock show and sound mix etc. But here I am, still trying to make a dent in the industry. The only dent I will probably see is the dent in my rusty old chev. hahahahahaha
Any future plans you can already tell us something about?
Yes. There is a video that will be released soon to promote September Campaign on Horizon DMA Records.
Also, I'm spending time promoting my Gnostic Gorilla project too; there is some exciting stuff happening with Geishaboy Records. They released on vinyl and CD, Hide the Ghost. I'm convinced that album has loads of potential. There's a video for the title track. 
Who are your biggest inspirations?
Well, the list is long. I'm assuming that you're referring to artists/bands that have inspired me. Some inspire and yet others are more influential in my own approach to music. So, I have to start with Gary Numan. God, the more I think of it the more I see how much that man has influenced other artists that today fall under the categories of industrial/goth/aggrotech/electronic. But speaking personally, Numan was a huge part of my life growing up. Before that, of course there was KISS. I look back at the early KISS images and it was just unreal. The masquerade was so powerful to me. But as I got older, there were different bands that truly inspired. Now, before going on, I have to mention Elvis. As a really small child, I was absolutely taken in by Elvis and I still am. His voice is like none other. Anyway, eventually I discovered all sorts of music and my taste certainly evolved over time. So, to name a lot of great bands/artists who have had an impact on me: Numan, KISS, Black Sabbath, DIO, Type O Negative, Rammstein, Nash the Slash, Ministry, Culture Club (yup…believe it or not) Japan/David Sylvian, Zardonic, Die Sektor, Psyclon Nine, CRIX IIIX, Pandamonium Bureau and Fear Incorporated, Global Citizen, TONTTU, Skinny Puppy, The Cult, Psychedelic Furs, Jimi Hendrix, Janis Joplin, Iron Butterfly and on and on. But I have to mention at the close of this, The Doors. The Doors and Gary Numan will always be the biggest inspirations for me! Couldn't see myself without either one of them. 
Any upcoming gigs for Bleeding Raven? Maybe coming to The Netherlands?
I doubt that I will be doing live shows anytime soon. I've been to Amsterdam once, but it was only for a transfer flight from Rome. Would love to visit someday.
How do you think your life would be without music?
Without my music or in general? Well…music has allowed me to work out some of the dark side, which we all have. It's like Peter Steele (RIP) of Type O Negative has said…music is "sonic therapy".
What advice would you give to young and starting bands?
Whatever you do, do it for the sheer creativity. Be true to yourself. Don't dream of being a "star" but be who YOU ARE and create freely and without restraint. IF that brings you to the big spotlight…great! At the end of the day, if you're true to yourself and your creative energy…it will be a beautiful and satisfying journey.
Thanks for your answers! Is there anything you want to say to DutchMetalManiac's readers?
Yeah, let's all get real and let's also evolve. So much hate in this world. We are in many ways going backwards. All the violence and hatred and racism and bigotry…it's only a sign that we need to continue to evolve. Life is too fucking short man. It doesn't cost extra to be nice. So let's be nice! Oh and…feed the squirrels. hahahahahaha
Bleeding Raven Official Website
Bleeding Raven Facebook
Hi!
I'm Tim van Velthuysen and I started DutchMetalManiac back in 2014. I'm 29 years old and I live in Nijmegen, The Netherlands. Of course, I like metal, but I can also appreciate other musical styles.
In addition to DutchMetalManiac I also have a personal website on which I'll post various things that won't fit on DutchMetalManiac, but might be interesting for you as well. It's in Dutch though.