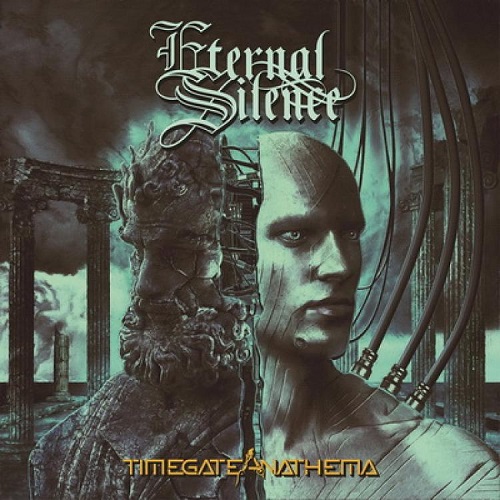 For fans of Epica, Within Temptation, Sonata Arctica, Lacuna Coil, Evanescence. How is that for a comparison? This rather pretentious and bold claim accompanies my digital copy of the Italian symphonic metal outfit Eternal Silence's new album, the recently released Timegate Anathema. Needless to say this statement sets the expectations quite high. Being formed in 2008 and with a release list that, without their latest release contains three EPs and three full lengths, the quintet at least should have the experience to substantiate their words. Time shouldn't be a hindering factor either as it has been four years since their previous release. Time to put this to the test and allow vocalist Marika Vanni, bassist Alessio Sessa, drummer Andrea Zannin, vocalis/guitarist Alberto Cassini and guitarist Enzo Criscuolo to prove they're right. Or wrong.
If anything they open the ball without hesitation. No dragging, pointless intro, no building towards a climax, no frills, The Way of Time is straight to the point, high quality symphonic metal from the first second onwards. This song ticks all the expected and known boxes linked to symphonic metal and then some. The beautifully orchestrated atmospheric, emotional intermezzo is a sweet bonus and the same can be said from the dueling vocalists that augment each other. Although both Marika's and Alberto's vocals are powerful and lively enough to lead a song on their own, the collaboration and interaction between the two lifts the overall quality significantly. Successor Edge of the Dream continues along the same lines even up to the atmospheric intermezzo, albeit with a slightly less heavy undertone.
Next up is Ancient Spirit and although in essence not overly different from the previous two songs its feel is completely different, proving Eternal Silence has more than one vein to tap from. The keys are more prominent and the sound is less dark. Heart of Lead, that starts as a power ballad and takes well over a minute to ignite, follows up on this after which the true power ballad Lonely marks the halfway point. The second half starts with Glide in the Air, a song that, with its intro that would fit any Nintendo game, throws me off track for the first thirty seconds. It then blooms into a full-blown metal song with some nice guitar work near the end. Then, with Rain and My Soul Sad Until Death, the band returns to their initial heavier, more dark style delivering two more symphonic songs that border power metal.
After all this there's the soothing acoustic, orchestra-supported ballad Firefly that all or not intentionally serves as a moment of rest and reflection before closer and heavyweight Red Death Masquerade explodes in full force. This is undoubtedly the heaviest song on the album. The heavy, tight riffs accompanied by equally heavy drum and bass lines and a ditto orchestrated section pack a serious punch and the vocalists have no problem delivering a little extra weight to add to its overall heaviness. What a way to end a release!
So all things considered Timegate Anathema is an album that has been carefully composed and forged into an organic, highly entertaining and masterfully executed whole. Clearly Eternal Silence is well aware of what they are doing and what they are good at. They do not hesitate to deploy different styles, different velocities and different heaviness throughout the album and they seem to be comfortable with playing either of them. A superb release in my opinion and, to come back to the earlier claim, certainly for fans of Epica, Within Temptation, Sonata Arctica, Lacuna Coil, Evanescence. Having said that, despite the clearly audible influences of said bands, this one has an identity and personality of its own and is in no way a weak deduction or shameless copy of either of them. Highly recommended!
Eternal Silence Facebook
Eternal Silence Instagram
Eternal Silence Twitter