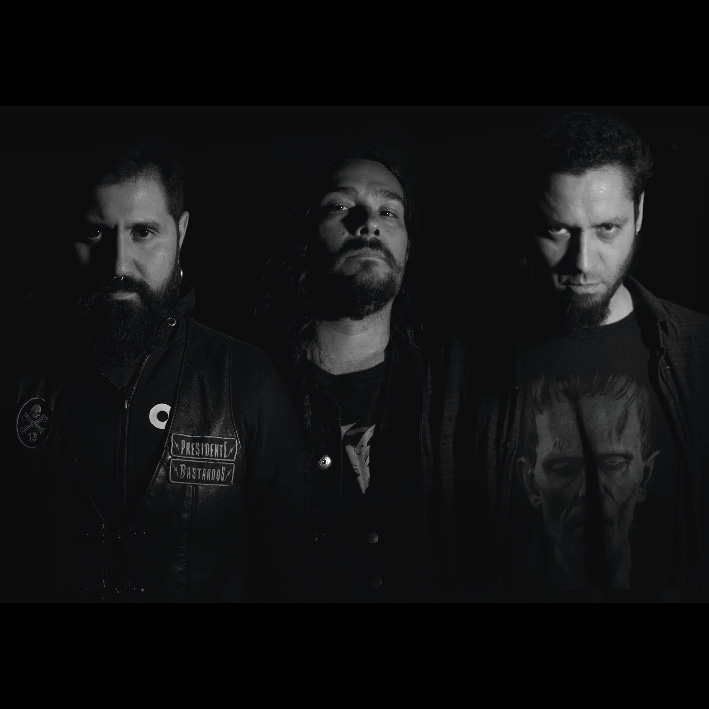 Recently, DutchMetalManiac's Tim van Velthuysen interviewed Ocultum bass player Pablo Kataldo.
Hey, how are you?
Hello! Ocultum is fine, waiting for the pandemic state that strikes the entire world to thaw then!…
Can you tell us something about the history of Ocultum?
Ocultum emerged from the underground of Santiago, more than 10 years ago. It began as a stoner band and mutated as its members began to change, becoming what it is now, a band doomed to burn in the confines of the universe. At the moment we are three members, Sebastian Drugula Brunae on guitar, Ricardo the cook of hell Robles on drums and Pablo the dark Ktaldo on bass. This line-up has the smooth, swampy sound of stoner doom, which helps us withstand this harsh reality.
For people not knowing Ocultum (yet), how would you describe your music yourself?
We could say of our music, or rather, the music of our latest album Residue, which is a combination between a bad trip of LSD and marijuana, with reefs stuck to no more power and the violence of crass. All you have to do is listen to her on drugs and at a volume that's unhealthy for your health.
When someone doesn't know Ocultum yet and you can choose one of your songs to present yourself, which song would that be?
We would definitely recommend our single The Acid Road. which is a journey through life, riding a motorcycle.
What makes Ocultum unique?
What makes a band unique?… difficult to answer that. I guess the difference in musical tastes (and of course the similarities) of its members, that has created a heavy and lethargic sound at the same time. But I think what characterizes us most is the fact that we do not follow musical rules or styles established in the circuit.
Any future plans you can already tell us something about?
I think there are always plans to make. For example in December of this year, in spite of the pandemic, there is coming a reissue in vinyl of our album Residue. That makes us very happy. Besides, we're writing for our third studio album.
Any upcoming gigs for Ocultum? Maybe coming to The Netherlands?
So far we have not scheduled any event, due to the capacity and problems stemming from the COVID, particularly from our country, a difficult state for everyone. And yes, it is always an option to play outside of Chile. We want to go to Venezuela, Colombia, Brazil and why not, a European tour. But the world plan dictates otherwise.
How do you think your life would be without music?
In general life without music is boring, either creating it or enjoying the musical creation of others. Life without music is like a vanished beer.
What advice would you give to young and starting bands?
The council is simple, start kicking ass! and you'll get it all!…
Thanks for your answers! Is there anything you want to say to DutchMetalManiac's readers?
Ocultum Facebook
Ocultum Instagram
Hi!
I'm Tim van Velthuysen and I started DutchMetalManiac back in 2014. I'm 29 years old and I live in Nijmegen, The Netherlands. Of course, I like metal, but I can also appreciate other musical styles.
In addition to DutchMetalManiac I also have a personal website on which I'll post various things that won't fit on DutchMetalManiac, but might be interesting for you as well. It's in Dutch though.