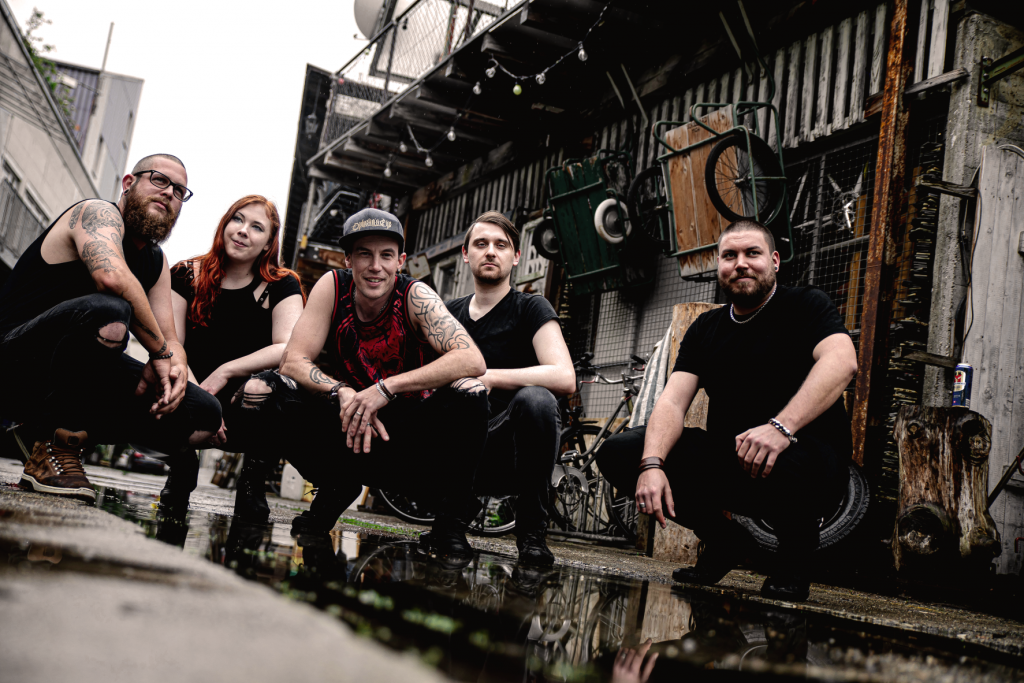 Recently, DutchMetalManiac's Tim van Velthuysen interviewed Ophelia's Eye.
Hey, how are you?
Hey – thank you for having us!
We are great and looking forward for this interview.
Can you tell us something about the history of Ophelia's Eye?
Phew – this will be a long one. 😉
Ophelia's Eye started out as a Project Penny and changed the name to Red Fire Dragon before our drummer Marco joined in 2017. At this time the band consisted of him, a guitarist and a bassist. When Marco met his school friend Remo at Greenfield 2017 by chance he instantly knew that he needs Remo in his band as this worked really fine during a band they played together in school. As Remo was quite busy during this time he needed a some time but after one year decided to give it a try, came to a rehearsal and decided to stay. At this point the band started out moving from covering songs to writing own songs.
The guitarist left in the beginning of 2019 but Michel (ex. Sweet Massacre) joined, which was really a lucky case: Michel has placed an ad on Bandbuddy in 2016 that he's a singer searching for a band. Nothing happened until 2019 Marco answered to his ad. Just at this time Michel has gotten his first child but as it fitted very well, he then joined. The band name once again was changed to the current name Ophelia's Eye.
In August 2019 Corinne saw an ad from Ophelia's Eye that they are looking for a guitarist. But since the ad was already from the beginning of 2019 and Corinne only played guitar for just under a year, she did not really believe that this would become something. But she was wrong: The answer from Marco came quick and only a week after Corinne came to a rehearsal and instantly knew that this was the right fit for her.
At this point we had the feeling that we now have the constellation to start out, recorded demos in our room very quick, built up our social media presence and organized our very first concert in February 2020 just before Corona measures took place.
But due to different goals we split up with our bassist just two weeks before our first concert and played without a bass player until we've found Sandro who joined in August 2020 and was really a lucky strike.
For people not knowing Ophelia's Eye (yet), how would you describe your music yourself?
Ophelia's Eye is a band from Switzerland with influences both from the melodic death metal sound of Gothenburg as well as the early metalcore era of 2003. This results in hard but also melodic metal.
When someone doesn't know Ophelia's Eye yet and you can choose one of your songs to present yourself, which song would that be?
It would definitely be Hopeless World which you will be able to hear on the upcoming album.
It has so many different elements from melodic clean guitar sounds, parts in which you can headbang all your way along, a breakdown and guitar solo – so anything for different tastes we would say.
What makes Ophelia's Eye unique?
Our unity among all members is very big, like family-bonds. We get through everything together, be it difficult, sad, exhausting or of course beautiful and joyful moments, and we have each other's backs. But of course also the passion of all for music in general and especially metal and its community.
You can feel this unity and passion with us also on stage and we think that we are able to transfer this passion also to the audience.
Also we think that we deliver a unique style in our music since we have influences both from the melodic death metal sound of Gothenburg as well as the early metalcore era of 2003. This results in hard but also melodic metal and gives us a lot of room when writing – which is what you hopefully will be able to hear on our album which we are producing now.
Any future plans you can already tell us something about?
We are going back to the studio in the end of October and beginning in November to record our full-length album.
A tour is also in planning, but more to that will be communicated as soon as possible.
And hopefully we get booked for some other concerts as well.
Any upcoming gigs for Ophelia's Eye? Maybe coming to The Netherlands?
Unfortunately not except a tour which is in planning.
It is currently very difficult to get booked, as many concerts have been postponed, many locations are already fully booked and festivals mostly took over the line-up from the previous they needed to postpone.
Also, organizing gigs by ourselves is a big financial risk, which is why we hope to get other opportunities for concerts soon.
But we hope to get other opportunities – maybe even in The Netherlands – again, soon.
How do you think your life would be without music?
Dull, boring and much less lively!
We all couldn't imagine a life without music in it since we listen to music nearly all the time.
Music can influence your emotions so much, can help you get through difficult times, can make moments even more memorable and joyful and brings people together so it is such a big part of life!
What advice would you give to young and starting bands?
First of all, be honest about what your goal is and define it together. For example, if someone in the band just wants to play together regularly, but doesn't necessarily want to get ahead, and for another member it's clear that he wants to get as far as possible in the music business, this doesn't fit.
If you have defined your goal, draw the consequences if the constellation does not fit and bring the patience to find the right members. Without that, it will come to unsolvable difficulties sooner or later.
Besides the right members and patience, be ready to work hard but also stay optimistic, positive and build up some resilience to deal with draw-backs.
Thanks for your answers! Is there anything you want to say to DutchMetalManiac's readers?
Thank you so much for having us!
To the readers: Thank you for your interest and reading all your way through this!
If you like our sound we of course would much appreciate if you share it and support us through buying our music & merch through our website or bandcamp.
Ophelia's Eye Official Website
Ophelia's Eye Facebook
Ophelia's Eye Instagram
Hi!
I'm Tim van Velthuysen and I started DutchMetalManiac back in 2014. I'm 29 years old and I live in Nijmegen, The Netherlands. Of course, I like metal, but I can also appreciate other musical styles.
In addition to DutchMetalManiac I also have a personal website on which I'll post various things that won't fit on DutchMetalManiac, but might be interesting for you as well. It's in Dutch though.